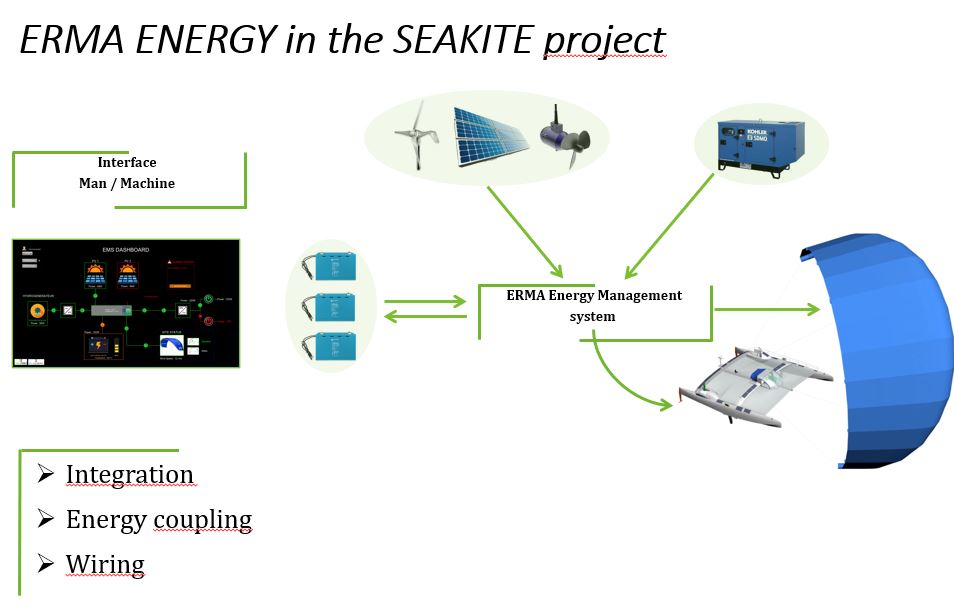 Built for ocean racing and speed records, the catamaran Médiatis Région Aquitaine has been renamed "The SeaKite" and is currently being revamped into an international level "exceptional laboratory", to house the different technologies developed by the partners involved in the project, to test, develop and promote the technologies of tomorrow. 
These industrial partners have come together in a consortium supported by the Nouvelle Aquitaine Region to develop leading edge technological building blocks which are complementary and/or compatible with each other and move towards the energy transition. The Project aims to develop an equipment system for a boat making it self-sufficient in energy. The aim is also to develop technologies enabling, by bonding, to recycle composite parts and manufacture recyclable composite parts (Arkema).
The boat should be launched this summer and begin its field tests.
Erma Electronique's contribution to the project is sharing its knowledge of industrialisation of processes, electrical architecture, its cabling capacities and system connections, as well as its design office skills for developing the man/machine interface for the onboard system, enabling the onboard energy to be managed and driven, as well as opportunities in microplastics and tropicalisation.
Erma Energy contributes by sharing its knowledge in the hybridisation, use, energy management and optimisation of production systems thanks to its energy management system.